05/17/13
Labyrinth of Darkness
I am in a dark passage that looks like something out of a medieval dungeon. I am not exactly lucid, but I have the mindset that I am playing a video game. I somehow pull back and view my own character as if from outside. I am me, dressed in black Assassin's robes. I must be playing some new Assassin's Creed game. I go back to 1st person. I can sense where my target is, but this time it isn't a target to kill it's a target to rescue. If I can avoid being seen by the demons here I will be better off. This is a stealth mission. So I quietly sneak down the corridor, following the closest route to my target. I see movement down the corridor and I move into a dark alcove just in time to avoid being seen by a really ugly guard as he walks by.
With my dark robes he doesn't notice me at all. He looks a bit like a human sized troll… and he smells worse. I continue down the corridor, watchful for any other guards. I hear the screams of someone being tortured. Is that my target? I might have to fight to get him out after all. I follow the direction of the screams for a bit and I realize I am going the wrong way. But I am close to the source of the screams now… I have to check it out. I peek through an open door into a torture chamber with all sorts of nasty indescribable devices. There is a bald man chained to one of those devices being tortured with fire by three more of the troll things. They laugh every time he screams. I plan to go into the room and try to stealth assassinate two trolls at once and then hopefully get the third before he raises an alarm. I am about to do that when what looks like a demon enters the room and tells the trolls to back down. They immediately hurry away into a corner as if they are afraid they will be next to be tortured. The demon addresses the prisoner as Robert de Sable and says he must apologize for this treatment. I do a double take… the prisoner is a Templar leader? The demon says someone must have made a mistake, he had left explicit orders for Robert to be brought directly to see him as he has a business proposition. The demon acts as if he has just realized Robert is in pain, and waves one taloned hand. The scene shifts. Robert is now standing in front of the demon, no longer chained, and his wounds are healed, and he is in his usual Templar armor, I can recognize him now.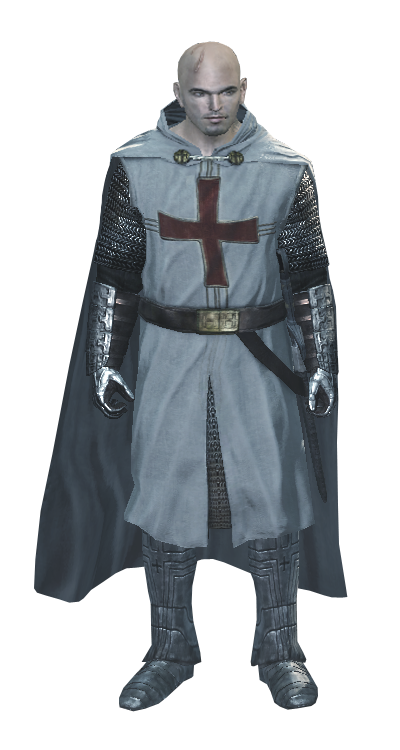 The demon says he wants Robert to work for him. Robert asks what if he doesn't want to. The demon says if the answer is no, he will simply go and leave Robert to his fate. The troll demons in the corner are muttering to each other. Robert immediately tells the demon not to go, he just wants to know what he would be doing for the demon. The demon grins evilly and says he only wants Robert to do what he likes to do best… kill Assassins. Robert mutters something about Altaïr. The demon laughs and says revenge against Altaïr may come later, but Robert's first target is actually one of Altaïr's descendents… an annoying Assassin by the name of Ezio Auditore. The demon says his power will allow Robert to crush Ezio like a small bug, but they would discuss details in a more suitable location. The trolls in the corner are hissing in anger, they want their prisoner back. The demon just glares at them and they cower back. Both the demon and Robert leave through an exit on the other side of the room. I think something should be done to keep them from going after Ezio, but I still believe I am playing a video game and I am not at a high enough level to challenge that demon. He would crush me like a small bug… So I make a mental note to find a way to help Ezio as I continue to track the target of my current mission. I finally find where my target is. A troll guard is standing by a prison cell door. I sneak quietly over to the cell door and stealth assassinate the troll guard with my hidden blade, charging the blade with light energy in order to make it more effective. I use a Harry Potter spell alohamora to unlock the cell door and I go inside. There is a man huddled in the corner under white robes. Is he an Assassin? He is my target. I go over and tell him I'm there to get him out. He says if he had any strength he could open a portal. I focus on transferring some energy to him. He looks up at me, now looking more like a wizard than an Assassin. He stands and opens a portal. I can see it leads to somewhere green and alive. He says to hurry before the demons sense the portal, they hate it when someone escapes the Dark Realm. He goes through the portal but before I can follow him I wake.